Gil Huerta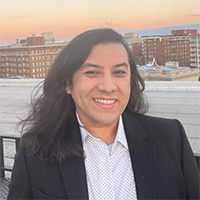 Gil Huerta
Applications Administrator, ISO Systems and Data
---
Hometown:
Pittsburgh, PA
Education:
B.A. Political Science & Information Technology, University of the District of Columbia
M.S. Cyber Strategy & Information Management, The George Washington University
Experience:
Gil is GW stalwart with a tenure spanning 8 years, working in various administrative roles within academic affairs. He is now exploring the "tech" side of higher education, administering and troubleshooting ISO's application systems and learning more about data management and predictive analytics.
Gil is passionate about issues related to emerging technologies and their potential impact on privacy and security. As a graduate student, he studies the implications the U.S.'s cyber posturing and preparedness will have on the future of international relations, e-commerce, and travel risk assessment.
Interesting Facts:
Gil's favorite era is the 90s, back when the World Wide Web was a new frontier that allowed weird kids to pioneer new virtual communities for other geeky weird kids. He prefers coding languages to spoken, but was a Latin/Ancient Greek nerd in a former life.